Hey, everyone. I promised that I'd have a post relaying the results of my trade with 20youksox, so here it is. Here's what I got:
1) 2009 Topps Unique Jon Lester
2) 2009 Topps Unique Dustin Pedroia
3) 2010 Topps Allen & Ginter Jonathan Papelbon Mini
4)2009 Bowman Draft WBC Dustin Pedroia (Regular and Gold)
5) Bowman Topps 100 Prospects Freddie Freeman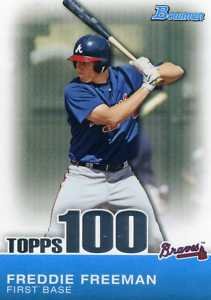 6) 2008 Bowman Dustin Pedroia
Overall, I'm pretty happy with what I managed to get.
Funny story. Today, 20youksox and I went to a flee market. One of the highlights was that one person was selling a Mark McGwire insert for $50 that we saw after at a different vendors table marked as $1. Then, I went to a booth that had surprisingly decent cards (I got a 2006 Flair Showdown Papelbon RC and a 2005 Topps Carlos Gonzalez FY), and completely out of the blue, someone offered us a completely free box of assorted baseball, football, and basketball that he had in his car trunk. Now, at first that seemed a little bit sketchy, almost pedophile-like, but you could tell by his attitude that he was serious. So, without hesitation, we took the box and ended up with a lot of free cards. Now, the downside is that, although it contained some decent cards, it also contained a lot of football dupes and junk wax. There will possibly be a contest for the other cards if anyone wants them, as well.
Keep Breakin'
-P.P.